ABOUT US
---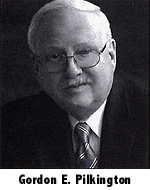 "For the first time ever, I remembered and even understood what an insurance professional said and how it could help me … thanks Gordon!"
For more than 20 years, Gordon Pilkington has been helping small business owners in southern Ontario create peace of mind in their business and personal lives.
Whether you run a small business, home office or a growing professional practice, Gordon will show you the easy, inexpensive way to improve the quality of your life with insurance products.
His simple and conversational way of explaining the important benefits of these products helps ensure that you do what's right for you. Gordon has devoted more than 20 years to the financial security issues of the people of the Niagara Peninsula and surrounding counties. To make sure he provides the best advice possible, he has also invested significantly in education.
Gordon is a Chartered Life Underwriter … giving you the best in life insurance and estate planning expertise. He is also a Chartered Financial Consultant and a Certified Financial Planner … for top money management and financial planning advice. When you chose Gordon as your advisor, you're working with the best.
And it's not just "book learning" that Gordon brings to the table. Besides his years of experience in the financial industry, he also has a wealth of experience in business himself. He's been on both sides of the desk and gives you a level of comfort about your finances that you'll really appreciate. This unique combination of expertise and experience is the Pilkington difference … and it makes all the difference in the world.
Gordon recognizes that there are thousands of products and literally millions of combinations of them (and seemingly just as many advisors to choose from too). The only way to pick your way down the rough and rocky road to financial success in business is with an experienced guide ... someone like Gordon Pilkington. He will help you keep your footing all the way.